The Fifth Element
An original script by Luc Besson
Revisions by Luc Besson and Robert Mark Kamen
August 1995 Draft
Gaumont and Les Films du Dauphin
FADE IN:
1EXT. DESERT NILE RIVER VALLEY - DAY
Somewhere in the Nile at the edge of the desert.
(...)
66AINT. KORBEN'S APARTMENT - DAY
Korben beads down the hallway. He passes his NEIGHBOR.
KORBEN Evening...
NEIGHBOR Fuck you!
KORBEN...Thanks... You, too.
Korben enters his-apartment.
66BINT.. KORBEN'S APARTMENT - DAY
The door slides back and the cat comes rubbing up against him, tail in the air.
KORBEN Oh god. I forgot your food ... I'm really sorry! How about a nice Thai nosh to apologize? How does that sound, huh?
The cat meows, appeased, just an the phone rings.
KORBEN Hello?
FINGER (V.O.) Hey bud...I'm waiting all day here.
KORBEN Finger..man..I'm sorry..listen..I was on the way over but I had a fare fall into my lap.. y'know one of those big fares you just can't resist..
FINGER (V.O.) (suspicious) So, just how big was this fare?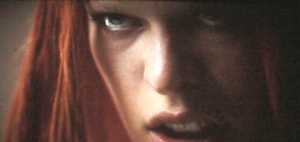 KORBEN 5'7", green eyes... long legs... great skin... perfect..
Korben takes out a cigarette.
FINGER (V.O.) Uh huh..and I don't suppose you got the name of this..perfect fare..
KORBEN (dreamy) Leeloo..
(...)
166INT. FHLOSTON PARADISE POLICE OFFICE - DAY
The Chief of Police has Cornelius in front of him, handcuffed.
FOG The Diva's ship is coming in.
CHIEF OF POLICE I want maximum security.
FOG Yes. Sir!
CHIEF OF POLICE (to Cornelius) OK, let's hear it.
CORNELIUS Where was I?
CHIEF OF POLICE (bored)...You open the door. There's a cabby with a girl in his arms.
FOG opens the door. Two COPS come hobbling in all bloody and bandaged. They hold up a THIRD COP.
CHIEF OF POLICE What happened? A bomb go off in your face?
BEAT-UP COP Yeah... A 5 foot 7 inch bomb... with green eyes.
Cornelius perks up.
CORNELIUS And the smile of an angel?
They all turn to look at him.
CORNELIUS (to Chief) May I speak to you alone.
(...)
---
Weitere sachdienliche Desinformationen: